BETTER TOGETHER: MAXIMIZE YOUR EMPLOYEE BENEFIT DOLLARS BY PARTNERING WITH YOUR PEERS.
Meet Optimal Health Initiatives
Governing Board
Tod A. Hug, Ed.D – Board President
Executive Director of Northern Buckeye Education Council/Northwest Ohio Computer Association
Mr. Tod A. Hug has served as Superintendent for both the Ayersville and Liberty Center Local School Districts. Prior to his Superintendent responsibilities, he was the high school and elementary/middle school Principal at Edgerton Local Schools and Assistant Principal/Athletic Director for Bryan City Schools. Tod has also served as Chairman of the Executive Board of Directors of NBEC/NWOCA and is a member of the MCOECN Board of Trustees, and has been active with the Buckeye Association of School Administrators (BASA) Executive Board of Directors, and the Northwest Ohio Special Education Regional Resource Center Advisory Board. Tod earned his Bachelors, Masters and Educational Specialist degrees from the University of Toledo.
Sandra Mers – Board Vice President
Superintendent, South Central Ohio Educational Service Center
Mrs. Sandy Mers holds masters' degrees in Educational Administration as well as Curriculum and Instruction from Ohio University and a bachelor's degree from Marshall University. In addition to her current Superintendent position, Sandy has served as the Superintendent of the Green Local School District, and was the Assistant Superintendent at South Point Local Schools for 6 years. Sandy maintains active membership on many community/state affiliations, serves on OESCA, BASA state committee and Women's Leadership Committee, and is President of the Scioto Health Plan. She has over 25 years of experience in education and 15 years in administration.
Randy Bertram – Board Secretary
Treasurer, Middletown City Schools, BHP
Dave Varda – Delegate for OHP
CFO/Treasurer, Educational Service Center of Central Ohio
Jerry Stewart – Alternate Delegate for OHP
Executive Director of Material and Human Resources, Delaware City Schools, OHP
Melinda Burnside – Alternate Delegate for SHP
Superintendent, New Boston Local School District

Paul Carpenter – Alternate Delegate for BHP
Chief Financial Officer, Butler Technology & Career Development Schools
Nate Johnson – Alternate Delegate for NBHP
Superintendent, Stryker Local Schools
Leadership Team
Optimal Health Initiatives maintains an administration team that embraces each of our multi-state markets for local, specialized support. Growth is important and only secondary to the retention of our satisfied members. Our team is proudly serving 40,000 employees, spouses, sons and daughters throughout Indiana and Ohio. We contribute our successful programs and innovative vision at political and product levels to the diverse resources we employ:
Elaine Shafley – Chief Executive Director
Elaine has over 30 years of employee benefit management experience with an emphasis on self-funded plan management. She has successfully organized collaborative groups and coalitions to affect greater purchasing power. Elaine and her team have successfully grown the SPMS client family from 10 employer groups to over 84 in Ohio and Indiana. This growth is in part due to an expanded distribution system with independent agents/brokers/consultants. Her industry experience includes Third Party Administration, Carrier/Medical Management, and Workers' Compensation. Formal education includes The Ohio State University, Wilson Learning Consultative and Total Quality Management training programs.
Crystal Meyer – Executive Director
As Executive Director for the Northwest Ohio and Indiana Divisions, Crystal and her team are responsible for the organizations strategic planning and overall operations. Her role is to provide strategic support to the members served through the political, contracting, and risk pool programs in her Region. She has over 18 years of employee benefit and human resource management experience; with an emphasis on self-funded plan management since 2004. Crystal holds a Masters of Business Administration degree from Bluffton University. Her industry experience includes Human Resource management at Lear Corporation where she was responsible for employee benefits and contract administration.
Stephanie Hearn – Executive Director, MHA, FACHE
As Executive Director for the Central, South Central, and Southwest Divisions, Stephanie and her team are committed to providing her Division members with quality health care and responsive service. Stephanie has over 25 years of health care management experience; with emphasis on self-funded plan management since 2007. She personally oversees the design of our medical and dental plans and has developed a tiered network of providers throughout our geographic area. Stephanie holds a Masters in Healthcare Administration from Xavier University and completed her undergrad work at Miami University in Business Administration. Prior experience includes nursing home administration and as Vice President of Operations at St. John Hospital and Medical Center in Detroit. Stephanie is also very active in local, state and national health care organizations.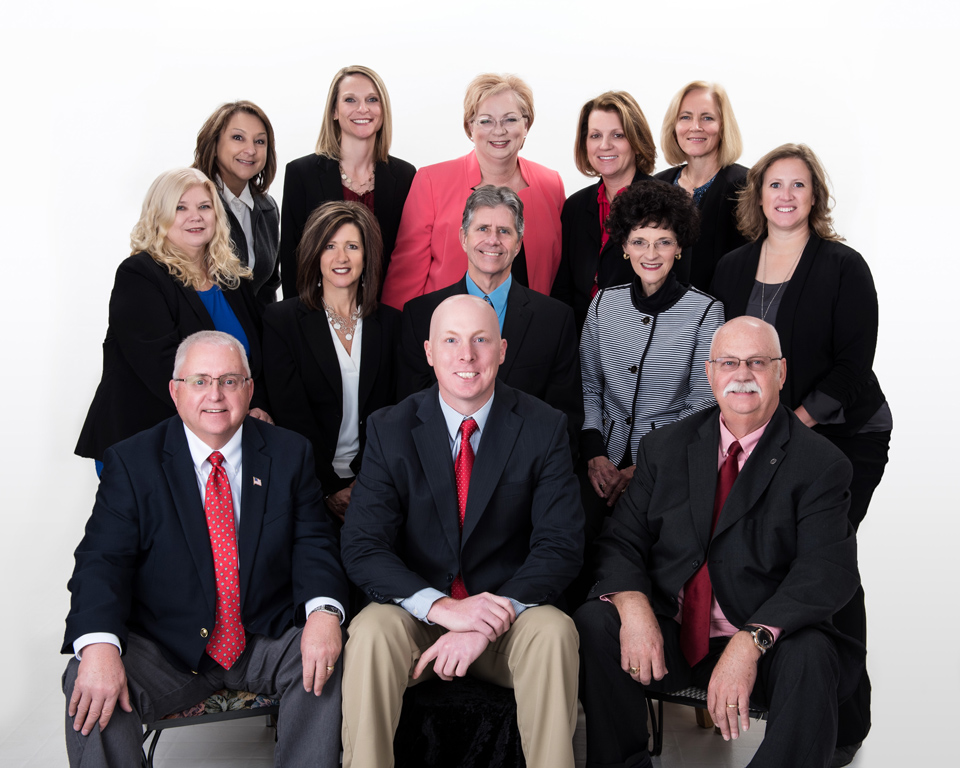 CHIEF ADMINISTRATIVE TEAM
(Back row, left to right): Hope Baird, Crystal Meyer, Elaine Shafley, Stephanie Hearn, Julie Gillum
(Middle row, left to right): Debra Follett, Rebecca Kohler, Brian Lewis, Melanie Hanson, Amy Heimbach
(Front row, left to right): Anthony Zickgraf, Justin Shafley, Fred Nelson
(Missing from Photo): Jessica Rosebrook